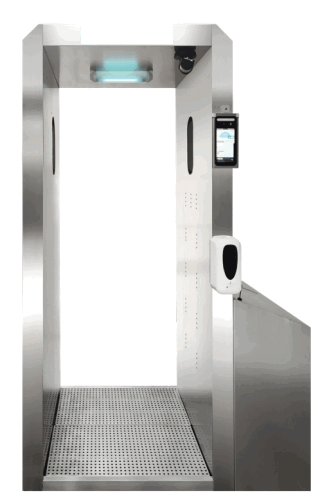 ADD A LAYER OF SAFETY TO YOUR WORK ENVIRONMENT TO HELP PREVENT THE SPREAD OF COVID-19.Getting back to normal by restoring consumer confidence.
Intelligent Disinfectant Station is ideal for any industry and size of business. Our product can make help the world a safer place by effectively safeguarding schools, gyms, corporate buildings, banks, hotels, factories, and more.
Introducing
Intelligent Disinfectant Station (IDS)
, a breakthrough purifying sanitation system that works as the first line of defense against harmful pathogens. IDS safely provides full body sanitation using food grade disinfectants, accurate facial recognition, and body temperature detection. Feel confident knowing that your workforce can have a fast and safe passage entering in the work facility.
INNOVATIVE FEATURES INCLUDE:
Food grade full body temperature
Low dose UV light disinfectant
Dynamic and accurate facial recognition system
Automatic spray with ultrasonic atomization system
Speed scan infrared thermometer
Abnormal body temperature reading alert
Integrated contactless hand sanitizing device
PRODUCT ADVANTAGES:
ZERO CONTACT DISINFECTION
HIGH CAPACITY OF DATA MANAGEMENT
SMART SWITCHING VIA APPS
PROGRAMMABLE AUTOMATIC SENSOR SPRAY 6-10 SECONDS
SAFE AND EFFECTIVE FOOD GRADE DISINFECTANT
CORROSION AND DEFORMATION RESISTANT 304 GRADE STAINLESS STEEL TUNNEL FRAME
AC 220V/ AC 110 V POWER INPUT
SIMPLE OPERATION AND ENVIRONMENT FRIENDLY